Click on image below to enlarge.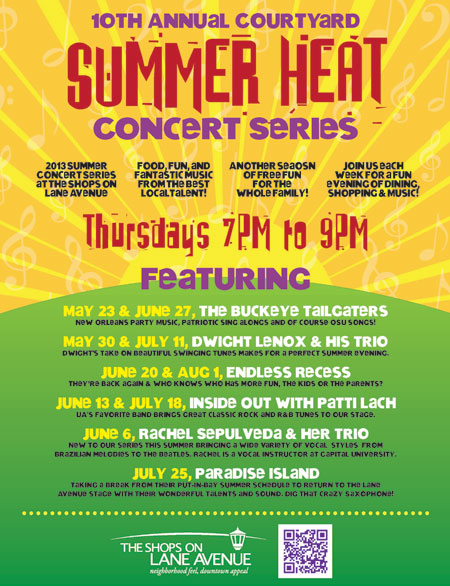 What started as a simple promotion has now blossomed into an Upper Arlington summer tradition. For ten years The Shops on The Lane Avenue have sponsored free summer concerts for the community and this year's lineup is sure to be a hit. The concerts are each Thursday from 7 until 9pm and are on the center's Esplanade between the Rusty Bucket and Cuzzin's Yogurt. The concerts are for all ages and feature the best local musicians performing styles ranging from New Orleans Mardi Gras music to Classic Rock and Motown to Vocal Stylings of the Great American Songbook. Most of the stores will be open as well for concertgoers' convenience. The concert scedule starts on May 23rd with no concert on July 4th.
May 23 and June 27 - The Buckeye Tailgaters; New Orleans Party Music, Patriotic sing alongs and of course OSU songs!
May 30 and July 11 - Dwight Lenox and his Trio. Dwight's take on beautiful swinging tunes makes for a perfect summer evening.
June 20 and Aug 1 - Endless Recess. They are back again this summer and who knows who has more fun, the kids or the parents?
June 13 and July 18 - Inside Out featuring Patti Lach. UA's favorite band brings great classic rock and r&b tunes to our stage.
June 6 - New to our series this summer is the wonderful Rachel Sepulveda and her Trio who brings a wide variety of vocal styles ranging from Brazilian melodies to the Beatles. Rachel is a vocal instructor at Capital University.
July 25 - Paradise Island takes a break from their Put-In-Bay summer schedule to return to the Lane Avenue stage with their wonderful talents and sound. Dig that crazy Saxophone!
All concerts are free and will be rescheduled in case of rain.